Cal Jet Bio Fuel Diesel Tank
The Cal Jet Bio Fuel Diesel Tank is approximately 50' diameter x 66' tall and associated large bore piping. We installed 2" thick fiberglass insulation with .032 stucco embossed corrugated aluminum panels for the finish on the sides banded in place with 3/4" SS banding every 18". The top is 2" thick fiberglass board held in place with cup head pins and finished with fabric cloth and CP 11 mastic.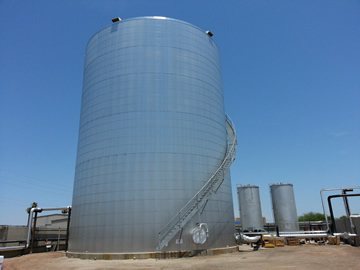 Contact us today for more information on what Argus Contracting can do for you or to consult with a contracting professional near you!